We now have the addition of QD-OLED TVs to the ever-expanding list of premium panel technologies that can be found on OLED and QLED TVs. Samsung alludes to the latest panels as 'QD Display,' but everybody else calls them QD-OLED, so we'll use that term here as well.
You may be wondering if it's justified to witness what QD-OLED delivers to the table after seeing some of the best sets from the major manufacturers this year. With this in heart, we set out to learn more about this latest tech and see how it stacks up against its competitors.
So, Let's begin.
What is QD-OLED?
To put it another way, QD-OLED combines the advantages of Quantum Dot, and OLED displays to create a hybrid display.
Samsung is the company behind the technology, and it has a history of pushing QLED (Quantum Dot) panels over OLED. Due to a lack of competition, LG is the only supplier of big OLED panels to the television industry.
As opposed to a standard LCD panel, OLED panels can generate the deepest blacks conceivable since the pixels can be independently turned off, rather than projecting a backlight via a layer of pixels atop. Since they lack the brightness of other panels and are more prone to picture retention or burn-in, these displays aren't without their drawbacks.
Because of their high level of color fidelity, QLED displays are frequently considered the finest option for displaying rich HDR material. In terms of brightness and burn-in, they may be superior to OLED panels, but in terms of black depth and overall contrast, they fall short.
How Does QD-OLED Work?
Quantum dots in green and red yield blue light in QD-OLED displays, which are essentially backlights for OLED panels. Each OLED pixel has three subpixels, one for red, one for green, and one for blue, thanks to the quantum dots. To make pure white lighting, these can be employed in conjunction with each other, or they can be used in varying configurations to create a rainbow of colors.
Traditional LCD filtering loses a lot of light energy when using quantum dots to convert color. To put it another way, QD-OLEDs might be able to produce images that are better than existing OLEDs while still maintaining deep black depths.
Samsung claims that its 4K QD-OLED TVs would contain roughly 8.3 million individually controlled light sources, which would allow a ratio of 1,000,000:1 and in effect, improved HDR performance.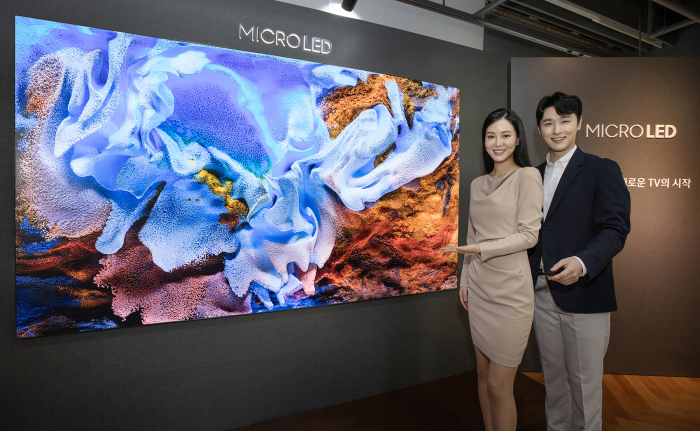 How much will QD-OLED TVs cost?
The combination of already pricey OLED technology makes us believe these won't be inexpensive.
First, Samsung QD-OLEDs are expected to come in 55-inch and 65″ dimensions, with wider 70″ models following at a later date.
Samsung's upcoming QD-OLED screens are expected to fall somewhere in between the company's existing QLED displays and MicroLED panels.
When can I buy a QD-OLED TV?
At this point, we are uncertain when Samsung's QD-OLED panels will debut at CES 2022. Rumors claim that the panels are already in productions and will be available for purchase during the first half of 2022.
As per a Business Korea report, Sony may introduce its very own QD-OLED models as early as 2022.