No one gives away over $100,000 per day, nor do you see a 22-year-old buying five stores solely to give away everything they have. One thing is certain: MrBeast is setting the standard for viral philanthropy with his antics.
Every time he does something outrageously generous, he makes headlines. He's given away $100,000 worth of diamonds, giving away an entire $800,000 island, or even broken into someone's home just to leave $50,000.
How much wealth does MrBeast have, and how is he able to feed himself with what little he does have? We'll take a closer look at each of his sources of income to see how they contribute to his ongoing success on the internet.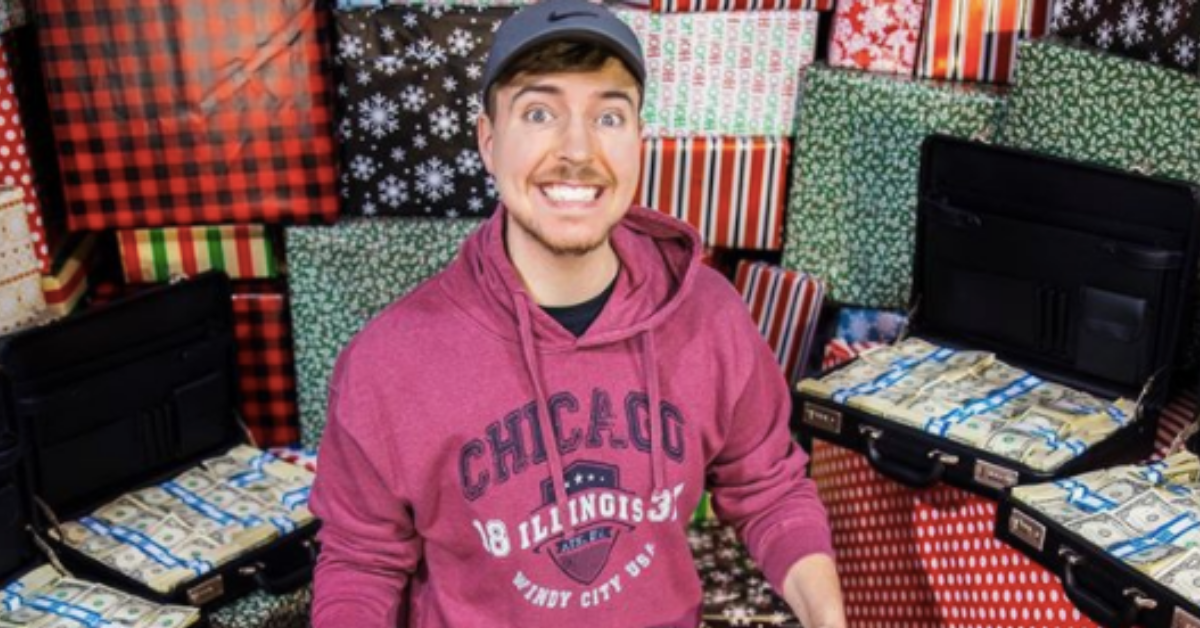 How Does MrBeast Make Money?
MrBeast has to make a lot of money to keep putting on massive giveaways like this one. His main YouTube account is devouring a ludicrous amount of money, according to him. Because of the loss, he recently created a gaming channel to raise money for charity causes.
AdSense is MrBeast's primary revenue stream, just like it is for most other YouTubers. Almost all of his money comes from the commercials that appear in his videos. To determine how much money he'll make, he has to know how many views his video receives and the current CPM rate. At the end of the day, he gets a cut of the advertising revenue generated by YouTube.
Brand Collaboration
MrBeast makes money from his YouTube channel in a variety of ways, one of which is partnering with businesses. In reality, it would be more accurate to state that brands cooperate with MrBeast rather than that MrBeast partners with brands. To push their products, both large and small businesses turn to his YouTube channel, which has more than 30 million subscribers.
As his popularity continues to rise, more and more companies are reaching out to him. MrBeast, on the other hand, is likely to price as much as he likes for a brief appearance in his video owing to his enormous fan base.
MrBeast just aired an ad for the Honey browser plugin. Honey's business concept would have gotten a great lift if a celebrity like Oprah Winfrey appeared and explained the advantages of the extension. The amount of money MrBeast made marketing the Honey browser plugin is unclear. It's unlikely that anything less than a million will be sold, given the popularity of the product.
Secondary YouTube Channels
He has several other channels with the same name, including MrBeast Gaming, MrBeast Shorts, MrBeast 2, Beast Philanthropy, and Beast Reacts. There are already millions of people following all of these channels. To keep donating to his primary YouTube channel, MrBeast has developed several additional channels.
On Twitch, MrBeast has a sizable following, although he seldom goes live on the platform. Despite this, he gets a lot of attention and contributions from his fans every time he does.
Other Ventures
A new trend among content providers is selling their products. MrBeast is in the same boat. We have a wide selection of apparel from which to choose. His products range from casual clothes to gaming-themed designs. MrBeast Burger has even added several apparel options recently.
However, MrBeast has his very own burger chain in the United States. Initial-time customers who ordered at the chain's first location were eligible for a $100 gift card. With more than 300 locations, his burger restaurant offers a restricted selection of items on the menu. Nevertheless, we don't know exactly how much money he makes from his burger restaurant.
Membership Clubs
Last but not least, we believe MrBeast makes money from an exclusive membership group. Several Esports companies, like Fnatic, G2 Esports, and Team Liquid, have their special membership club, and MrBeast follows suit. Exclusive video, behind-the-scenes outtakes, early news updates, and much more are all available to members of these clubs.
Those who want to listen to MrBeast's podcasts and strange videos can do so for roughly $10 a year by joining his membership club. Most significantly, unlike on YouTube, where a portion of his earnings is retained by the video streaming company, he keeps all of the money he makes from his club.
What Is MrBeast Net Worth?
MrBeast seems to be the only one who can reveal the exact amount of money he makes. But we don't expect it to happen in the foreseeable future. However, there are numerous websites online that estimate the income of celebrities. MrBeast's annual salary is 25 million, according to "Celebrity Net Worth," while his monthly income is only 3 million, according to the same website.
There's no doubt that MrBeast is by far the most creative and lucrative YouTuber we've ever seen so far. He's unlike anything we've ever seen. From eyes full of tears to cheeks stretched with smiles are his best giveaways.