"Don't Look Up," the new film starring Leonardo DiCaprio and Jonah Hill, is another blockbuster classic. This time, though, it is based on "real occurrences which haven't occurred."
Don't Look Up is based on a narrative by filmmaker Adam McKay involving two astronomers who go on a massive press tour to warn the public about an oncoming comet that might potentially destroy the earth. Of course, they're not taken seriously.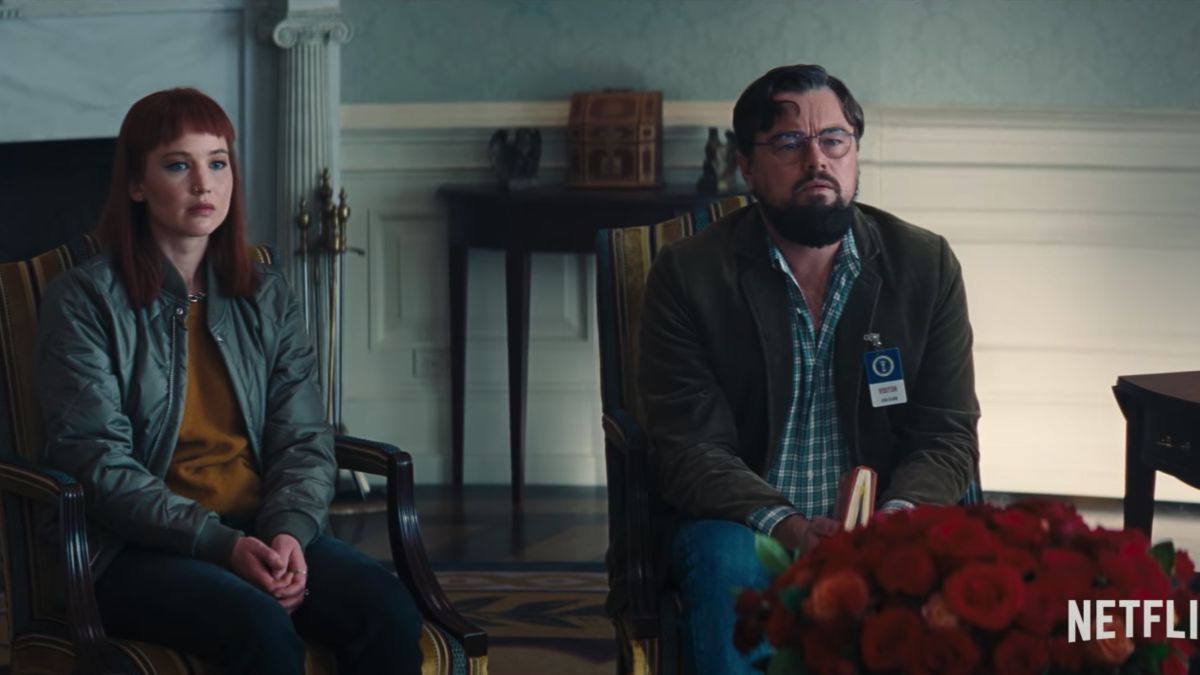 Here's everything we know about Netflix's Don't Look Up.
When is 'Don't Look Up' Expected to Release?
On December 10, Don't Look Up is scheduled for a theatrical release, accompanied by a Netflix rollout on December 24. According to critics, the upcoming Hollywood flick is this year's funniest movie and a possible Oscar candidate.
Where To Watch 'Don't Look Up'?
Catch Don't Look Up is scheduled to hit theatres on December 10. Movie lovers can stream dark comedy on the streaming giant Netflix from December 24.
The official description for Don't Look Up reads:
"Kate Dibiasky, an astronomy grad student, and her professor Dr. Randall Mindy make an astounding discovery of a comet orbiting within the solar system. The problem — it's on a direct collision course with Earth. The other problem? No one really seems to care. With only six months until the comet makes impact, managing the 24-hour news cycle and gaining the attention of the social media obsessed public before it's too late proves shockingly comical — what will it take to get the world to just look up?!
'Don't Look Up' Cast
'Don't Look Up' packs some biggest Hollywood names such as  Rob Morgan, Jonah Hill, Leonardo DiCaprio, Jennifer Lawrence, Mark Rylance, Tyler Perry, Meryl Streep, Cate Blanchett,  Ariana Grande, Timothée Chalamet, Ron Perlman, Scott Mescudi aka Kid Cudi, Chris Evans, Tomer Sisley, Himesh Patel, Matthew Perry, Michael Chiklis, Paul Guilfoyle, Melanie Lynskey, and Gina Gershon.
Check out the trailer for 'Don't Look Up'
This film has been getting a lot of attention since its teaser clip was released back in September. Next came the full trailer for Don't Look Up, which landed in November.
An astronomer and his student were shown in the clip trying to spread the word about the comet's dangers, led by Dr. Randall Mindy and his pupil, Kate Dibiasky (Jennifer Lawrence). They even visited the President played by (Meryl Streep) and even met pop singer Ariana Grande (Ariana Grande), but all their efforts were in vain.
When the government eventually listens to them, they are more concerned with generating money than rescuing the world.
What's Netflix's Don't Look Up about?
The film tells the story of two astronomers who are on a six-month mission to warn the world that an asteroid is on a collision course with our planet. On a press tour to alert the public about a meteor that would threaten the Planet in six months, Leo and J Law portray two low-level researchers who find an uninterested and skeptical populace.
McKay in an interview with Deadline said-
 "I'm so thrilled to make this movie with Jen Lawrence. She's what folks in the 17th century used to call 'a dynamite talent'. "And the fact that Netflix sees this movie as a worldwide comedy sets the bar high for me and my team in an exciting and motivating way."
That all we know about the upcoming 'Don't Look Up' movie and we'll update the page as soon as new information surfaces.